AlphaGuardK9 have a proven track record in the preparation of security dogs to work in the industry
We always have trained dogs available for sale to qualified handlers, or can train your own dog to meet their operational requirements – from "green" (un-trained) dogs to behavioural issues – complete with a record of training.
Our three professional dog trainers offer their diverse security training and working experience to resolve a range of issues, working through obedience and agility training to narcotics detection and continuation training with their handler. Please also see our Security Dog Handler Training information.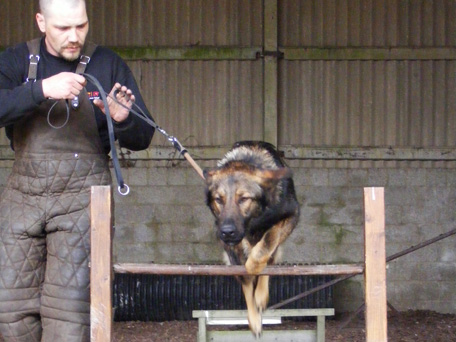 We offer tailored training on a day-to-day basis or various lengths of residential course, with comfortable kennels on site to house your dog for the duration of their training.
Security Dog Training
The accepted guarding breeds are German Shepherd, Rottweiler and Doberman.
Search and detection dogs are typically Spaniels, Labradors and gun dogs.
Not all dogs are suitable for security work, even if they are from a recognised guarding breed. We offer a free assessment, and can tell you if your dog is suitable and how much training may be required within a few hours.
Posted in: Guard Dog Training, Security Dog Training
No. We use our understanding of a dog's behaviour and methods of communication to utilise their natural learning pattern, and we create scenarios that will develop the dog's confidence in their ability to undertake the roles required of them.
Posted in: Security Dog Training